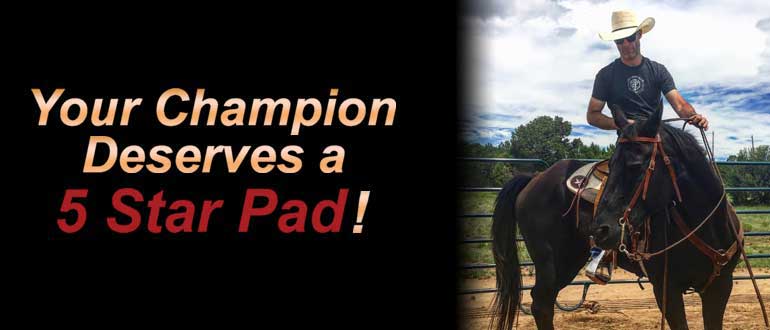 Jeremy Svejcar
Founder, Executive Director of Charlie Five Inc.


Reading a letter from home just before another convoy escort. Iraq, 2006
"There are probably a million quotes out there about how horses have the ability to change and positively impact lives. I'm living proof that they can.
I spent about 10 years in the military and went on multiple deployments. The one I returned from in late 2006 really took a toll on me physically and mentally. I was discharged in 2010 and over the next few years, I found myself struggling to cope and find my place outside of the military. In the Army, people looked to me for leadership. I was someone others could rely on and I was very good at what I did. Being a soldier defined who I was and I was proud to tell people I was a soldier. When I got out I felt like I lost all that. I wasn't Sergeant Svejcar anymore, now I was just "Jeremy".
The struggle came to a head after my brother and aunt passed away a short time apart. I still had family but coping with the loss, dealing with PTSD and trying to figure out who I was supposed to be was just too much for me to bear. To top it off, the intensity and stress of my job were overwhelming and I felt like a burden to my wife because I never wanted to leave the house. I had a hard time just going to the grocery store because I felt like I was being judged by anyone I talked to. There wasn't a whole lot keeping me from becoming another statistic. I was close. But, I held on.
I read about an outfit for Veterans in Montana that seemed different from many of the others I had seen, so I applied. In March 2016 I got a call from Heroes and Horses and was accepted into their program and found myself on the back of a horse again (for the first time since my early teens), in the middle of the wilderness, completely and totally disconnected from the world with nothing to do but sit in the saddle and think.
I quickly realized how honest the horses were. They didn't judge me. They didn't care about the holes I have in my soul. The horses were just there and they relied on me—they needed my leadership. I had to take care of them, so they would take care of me. We established trust and bonded in ways I cannot explain.
Val Geissler (UnBranded The Film) happened to be one of the volunteers for my class and we hit it off right away. I think our common ground was that we had both ridden bareback horses at one point in our lives and we spoke of the same folks. Val didn't sugar coat things and he was able to lend a lot of insight to life from another perspective. When he invited me to his outfit in Cody, Wyoming for my third and final phase of the program, I jumped at the opportunity. I got way more than I bargained for.
I spent a month there as an apprentice and worked with horses every day. Val became much more than my mentor, he became family, a confidant and driving force behind where I am today. He used the horses to remind me that the only thing standing in the way of me accomplishing anything I want is me. "Ain't nothin' we can't do and darn little we won't try!" "Things turn out best for those who make the best of the way things turn out!" and "Ain't nothin' but a thing!" reverberate through my mind with each and every challenge I face.
I left Cody and stopped in at my folk's house in Colorado to stay the night. My wife and I weren't able to get up there a whole lot and it was rare that I was by myself when we did visit, so it was good to see them and tell them about my adventure, talk horses with my mom and just spend time. We had finished supper and I had just put my plate in the sink. I stood in the dining room and looked at my mom with tears welling up in my eyes when she looked at me and asked "What's the matter, son?"
"I'm home, Mom. The horses brought me home."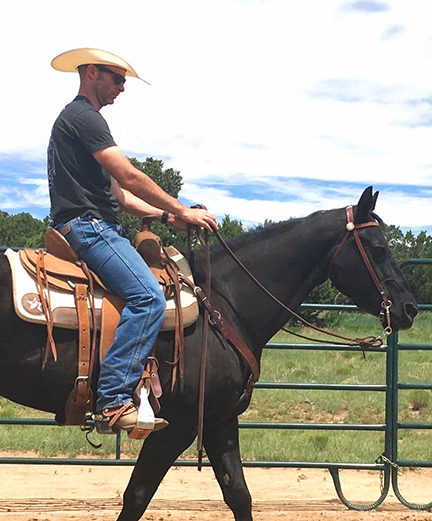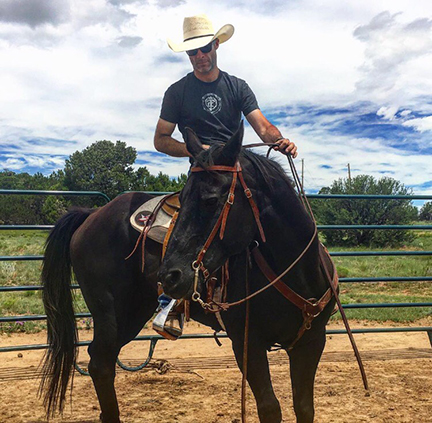 Dollar is one of those older, experienced horses a new trainer can really
benefit from because he is so forgiving. He teaches me everyday.
I finally gave my Mom and Dad a wholehearted hug for the first time that night. It had been over a decade since I returned from my last deployment and for the first time, I felt at home. The feeling was indescribable.
Since that September evening, I have channeled my energy into doing positive things. Horses have provided me with purpose and reignited my fire to serve other people. As a result of all this, my wife and I took what little cash we had saved up and started a nonprofit called Charlie Five. Simply put, our mission is to provide horses and horse training to Veterans and organizations that use horses to help Veterans and others overcome personal struggles. We do it all at no cost to the veteran. I want to help others who are feeling what I felt a couple years ago, feel the way I do today.
This doesn't mean that I am all better, I still have my struggles. I work diligently to maintain a positive attitude and challenge myself every single day. Life is filled with peaks and valleys. When I fall into one of those valleys I reach into my toolbox and typically find that it is a set of reins leading me out." Jeremy Svejcar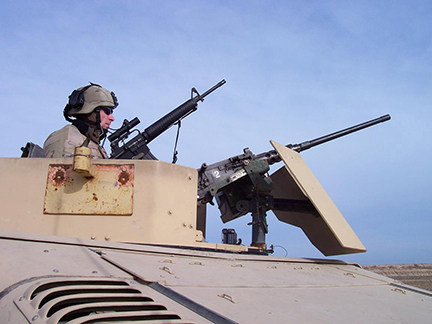 Jeremy providing security for a halted convoy
somewhere between Safwan and Nasiriyah. Iraq, 2006.