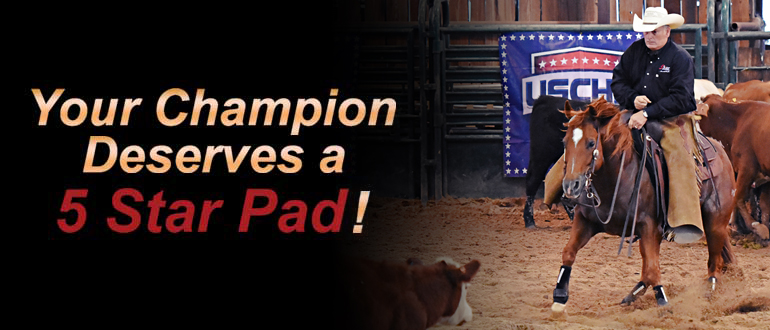 Terry Moore
5 Star Equine Products & Supplies, Inc. - Owner
"On March 22, 2014 I lost my daughter, Amanda, to a tragic accident. Losing a child is, without a doubt, the worst nightmare for any parent. For the next several months and years, I found it hard to function as I always had before when faced with adversity. This was almost more than I could bear and handle. There were times I really didn't know if I was ever going to recover from losing Amanda. It was the hardest time in my life and my family's lives. It was the first time in my life I was not able to overcome adversity, get back up, and get back to my normal way of life. There was now a new way of life for not only myself but for my entire family. They too had lost a daughter and sister that they loved and cherished ever since she had come into our lives. Our hearts were broken, and I could not I figure out how I was going to move on from this loss of our precious daughter. However, through my faith, the love for my family and some close friends of which had experienced the loss of a child as well, my determination to be the husband, father and grandfather that my family needed now more than ever, I was determined to climb out of the dark place I was in.
The loss of Amanda had broken me to the point I was not able to run my life or my business as I needed to. I realized I needed a way to get the healing process started. I have, for many years, been an avid cutting horse enthusiast. I had been an amateur cutter for many years, but I had been out for a few years. As I was trying to dig my way out of this dark hole I was in after Amanda's death, in December 2014 I went to Ft. Worth to watch the NCHA Futurity during which I attended a cutting horse sale for finished cutters. It was there I decided I needed to get back to cutting, because I loved it and missed it. I had come to realize that life was too short not to enjoy some things that brought me joy. I began my search at this sale for my next cutting horse. I began walking the hallways looking at the finished cutting horses there at the sale, and I came across this Highbrow Cat gelding "Brickyard Cat" aka Cookie Monster that just sort of took my eye. I was able to visit with his current trainer to get as much information as I could. I knew he was a good cutting horse, because this trainer and Cookie Monster had placed 13th in the NCHA Mercuria World Open in 2013.
I watched Cookie Monster demonstrate during the sale, and that's when my mind was made up to get this horse and go back to cutting; and I did. After buying Cookie my biggest concern now became "could I stay on this guy"!?
Cookie Monster proved to be one of the best things I could've done at that time to help get me on the road to continue the healing process from the loss of my daughter. Cookie had problems after I got him home, but it was not anything that I was completely surprised about. His problems were all very easy corrected. It took my vet and me about 6 months to get him completely fixed and ready to go. Then we were in the hot summer time, so Cookie got to continue to relax and recover. The rehabbing and taking care of him helped Cookie and I bond like I've never bonded with a horse before. He became an important part of my healing therapy. My business, 5 Star Equine Products, also contributed in my healing process, because we were extremely busy; and it demanded much of my attention and kept my mind occupied. It helped me continue to move forward with my life that had such a tragic chapter added to it.
Finally in late January 2016, over a year after I purchased Cookie, I put him in training with a trainer to get him back into show condition. I had a plan to get back into showing Cookie myself in the spring of 2016 but is was not to be. In the spring of 2016, I was really excited and was looking forward to getting back into the sport of cutting. Cookie came back as good as ever. Trainer, Kyle Cox, was able to get him ready to go in about a month and a half and Cookie was as sound as he could be and hitting on all cylinders. Kyle and Cookie rode to the head about 5 times in a month and won the open 4 out of 5 times – Cookie was back and ready to show, but I was not. I rode Cookie for the first time on a cow in February 2016 and my biggest concern about being able to stay on this guy came to be a real life concern as he turned on a dirty cow and I did not make the turn he just left me in the dirt wondering what just happened. After riding on cows that day I realized that I had a breathing issue and that my health was not good enough to ride and show a cutter. I brought Cookie back home and started the process of trying to figure out what I had going on in my body. In June 2016, I went to my cardiologist to see if he could figure out why I could not do much without losing my air and energy. He was able to determine the problem, and it wasn't what wanted to hear. It was determined that I had a respiratory virus in the spring of 2016 that attached to my heart. This caused my heart ejection fraction rate to drop to 15% (normal is 50 - 60%). This was a very serious heart condition that eventually led to me having a pacemaker and defibrillator put in to help my heart heal. So again I had to postpone my plans to ride and show in cutting. Cookie Monster became a big part of my healing process again. My new goal now was to regain a healthy heart and strength to be able to enjoy my grandson, my family, and to be able to ride to the herd at some point on Cookie Monster. I was given permission by my cardiologist in late January of 2017 to begin cardiac rehab at a nearby facility to help re gain my strength and after a couple months of rehab I was able to begin riding Cookie to get him back in shape for completion. I had tried riding some in late fall of 2016, but at that time I still wasn't able to ride long enough to stay on a cutting horse. I completed my cardiac rehab in late March 2017 and I was much stronger and so the journey began to get myself and Cookie whipped back in shape to compete again.
Cookie proved to be a great purchase for me, because he helped in my healing process in two different situations. Cookie played an important role for me to help get my life back on track from the two most difficult times in my life, the loss of my daughter and my serious heart condition. With Cookie Monster just being in my barn, that gave me hope and a goal to get a part of my life back on tract. Again in 2016, Cookie was there just waiting on me to get my health (heart) better, so we could finally reached the goal that I set back in December 2014. Finally, July 2, 2017 (2 ½ years after buying Cookie) that goal was finally reached – Cookie and I entered our fist cutting completion in Sulphur Springs, TX at a USCHA weekend cutting! Our first class we only marked a 69 score, but the score wasn't the important part to me. We had reached a goal that took over 2 ½ years for me to obtain. We showed 3 more times that weekend, and each time we improved on our scores the best being a 72. I was very pleased and so thankful that I had continued to work hard, and I did work hard to get Cookie in shape as well as myself. Cookie had not seen a cow from February 2016 until July 2017. We went back to trainer Kyle Cox to work cows to tune Cookie and myself up the day before this cutting. Cookie was perfect – me not so much – but it felt GREAT to reach this mile stone of being able to do again what I had always loved to do. Cookie is the perfect horse for me. He has so much talent, he truly is a SPECIAL horse and he now takes care of me when we show. Cookie loves his job plus he has so much personality that he not only has won a special place in my heart he helped me recover from my injured heart along with helping to heal my broken heart to a point where I have been able to move forward with my life from such a tragic loss of my beautiful daughter Amanda. Brickyard Cat aka Cookie Monster is my 5 Star Champion!!!"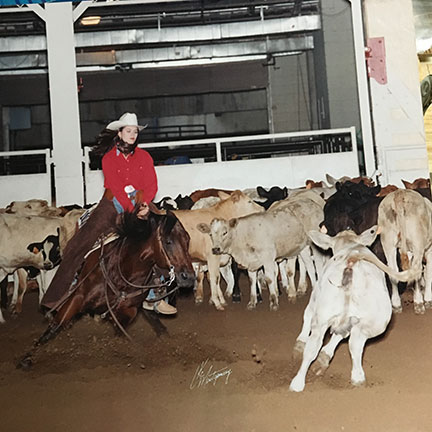 Amanda Moore
01-16-81 — 3-22-14