How will my order ship?
5 Star Equine Products primarily uses UPS to ensure your package arrives by the estimated delivery date. Most orders are sent Standard Delivery. For faster delivery, you can upgrade your shipping, for an additional fee, to an Expedited Delivery option. To upgrade your shipping, make your selection during checkout.
When will my order arrive?
Please allow 5-10 business days for your handcrafted item to leave our facility. Transit times vary based on location. See the map below.
The information below should be used as a guide. The most accurate information will always be the estimated delivery date and tracking number for your order. You will receive an emailed invoice with tracking number the day that your order leaves our warehouse.
UPS Ground - 1-5 Business Days - Delivery based on distance to destination View U.S. Ground Maps
UPS 3 Day Select – 3 Business Days
UPS 2nd Day Air – 2 Business Days typically by the end of the day
UPS 2nd Day Air AM – 2 Business Days typically by 10: 30 a.m.
UPS Next Day Air Saver - Next Business Day Delivery typically by 3:00 p.m.
UPS Next Day Air - Next Business Day Delivery typically by 10:30 a.m.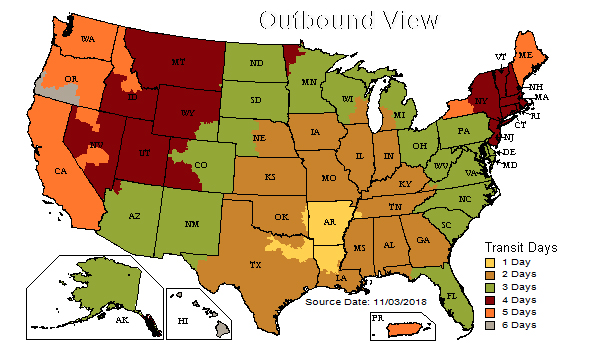 Can I have my order sent to another address?
Yes, you can have your order sent directly to an address that's different than the billing address.
What are my domestic and international shipping options?
5 Star Equine Products ships worldwide! Certain shipping methods may not be available for some locations. Please note that Standard Shipping & Handling is only available within the contiguous 48 states. 5 Star Equine Products customers outside the US can view their available shipping options when checking out or call Customer Service for information regarding S&H options.
Can I ship my order to a P.O. Box or military APO/FPO address?
Most items can be shipped to a P.O. Box or military APO/FPO address. Some restrictions may apply.
Do you charge a handling fee?
5 Star Equine Products charges a small per box handling fee. The fees are as follows:
1 Box – $8.50
2 Boxes – $11.50
3 Boxes – $13.50
4 Boxes – $15.50
Can I return my 5 Star 100% pure wool saddle pad?
If you haven't placed it on your horse's back, you can return your 5 Star Pad to us for an exchange or a full refund within 30 days of purchase. If you are unsure about the size, style or fit of your pad, place a sheet on your horse's back before trying on the 5 Star Pad. Custom orders are final and cannot be returned. Custom pads consist of any pad that has wear leather changes (color, length, style), embroidery, crystals, spots, fringe, cutouts, special wither options, special cut pad styles, etc. If it is not a standard pad with the basic wear leathers that come standard on the pad with a standard gullet hole, it is considered custom.